What you need to know about accommodation in Casas Particulares Cuba?
If you are preparing your trip to the pearl of the Caribbean (CUBA) and have taken a look on the Internet, the phrase "Casa Particular in Cuba/Airbnb Cuba" will surely sound familiar to you and you are probably wondering what it means exactly
Although this type of accommodation is increasingly known and recommended by people, there are many doubts that can arise when we talk about staying in Cuban houses.
Before anything else, I can assure you that staying with a Cuban family in "Casas Particulares/Airbnb Cuba" is probably the best way to get to know our island.
With this article, I will try to answer each and every of the questions you may have about accommodation in Cuban houses. What advantages does it have, how do they work, how much do they cost, how can you find and book that ideal room.
I hope that it will be of great help to you and you can get to our land with clear information .
Article content
What is a "Casa Particular in Cuba" (like Airbnb Cuba)?
The concept of 'Casa Particular Cuba' or 'Casa de Renta' in Cuba is nothing more than a Bed and Breakfast (Airbnb Cuba) type of accommodation where a number of X rooms are allocated for the exclusive use of guests and common areas are shared with the host family.
In other words, it is a small-hotel where the entrance door to the building and the common areas of the house are shared with the other guests and the host family. While you have exclusive access to the space you have reserved.
In most cases these are private rooms or small apartments with their own bathroom, air conditioning, hot water and the typical facilities which can be found in any hotel room.
Is it safe to stay in a Casa Particular?
Firstly, it's important to make a difference between legal and illegal Casas Particulares. Though they are few, there are illegal houses and I do not recommend them at all.
Legal Casas Particulares (privately-owned homes) are easy to identify thanks to the blue "Arrendador" ("Landlord") sign displayed on their front doors.
In addition to paying the Landlord license and the corresponding taxes, legal Casas Particulares keep a registration book in which guests' identity data and length of stay are kept.
Such confidential data are sent daily to the Immigration Department and Cuban authorities could locate you if necessary.
Regarding the accommodation itself, renting with Casas Particulares is totally safe. The rooms usually have their own entrance key to guarantee your privacy and peace of mind.
In our case, all rooms also have a smoke detector and a safe, in addition to a CCTV Surveillance system which monitors the building perimeter.
In any case, we are sure that wherever you go the hosts will be most welcoming, so that you'll go back home raving about your wonderful stay in Cuba.
How much does it cost to stay in a "Airbnb Cuba"?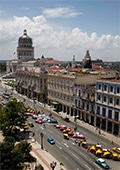 The first thing to consider is the city or area in which you want to stay.
Havana and Varadero are the most popular places with accommodation fees, on average, varying from 20 CUC to 35 CUC per room / night for two people.
Viñales, Trinidad and Cienfuegos are destinations where accommodation fees vary from 15 CUC to 25 CUC per night.
CUC = Cuban dollar
When to visit is also an important factor. Cuba enjoys very sunny and warm weather and this means that it can be busy with visitors most of the year.
The months of May, September and October are considered low season and you may find cheaper prices.
If you have not already done so, we kindly recommend that you select the dates of your trip in our search engine. You will be able to see how competitive our prices really are bearing in mind the quality of our accommodation and our great location.
How can you find or rent Airbnb Cuba?
Understandably, our recommendation is that you do it here on our website. You can simply and safely check the availability for your dates and your reservation can be made without intermediaries and without the need to make any payment in advance.
Certainly, there are other ways to search for accommodation in Cuba and the main example of this is Airbnb, which has many places to stay across the country.
If you still don't have an Airbnb account, I will leave you this link so that you can register with them and receive a discount for your first reservation. The advantage of doing it through their platform is that you can read the ratings of other guests detailing the quality of the accommodation and the truth of the ad.
Link of our rooms on Airbnb Cuba:
You can also, upon arrival, go directly to the areas where you would like to stay as private houses display a distinctive blue badge. However, without previous booking you may run the risk of not being able to find the right place for you.
Our advice is for you to land in Cuba with the work done. Whether through our webpage or any other booking portal, ideally, you should come with your reservation and guaranteed accommodation.
Some advantages of staying in Airbnb Cuba
The biggest advantage of such accommodation is still the price.
Thanks to the effort made by host families, rooms are usually neat and of great quality, having all the facilities expected from any hotel room whilst costing much less.
Additionally, would it not be good to know someone reliable to guide you during your stay in Cuba? Someone of trust who can take you around the city and offer you the best suggestions and advice, such as places to visit, where to eat, how much you would be expected to pay for products and services, what means of transportation to use, the best places for nightlife, and much more.
Also, someone who can recommend what only locals know and think you should not miss on vacation. That is why the hosts of La Casona de Rakel are here for.
When you travel, among other things, you hope to find out more about different ways of life, customs and cultures. This can surely be achieved by staying in our 'Casa Particular' in Havana.
Cubans are generally great hosts and besides the fact that rental houses are our way of earning a living, managing a 'Casa Particular' is for us a great opportunity to meet new people and "soak up" each other's cultural wealth.
We always give the best of ourselves to each one of our guests as if he or she were a great friend not seen for a long time.
What services does Airbnb Cuba offer?
We guarantee we will try everything to make your trip and stay on our island easier as we always try our best to meet requests or queries our guests may have.
We put at your disposal the information and contacts that we have, and we will advise you on the best excursions, restaurants, transfers by taxis, bus, and much more.
Breakfast
A proper breakfast based on seasonal tropical fruits with fresh juices, milk, coffee, bread and eggs for 4 CUC or 5 CUC per person depending on the city.
Lunch/dinner
Always on request, a fair price is agreed beforehand based on what you may choose to eat. As a general rule, it is usually cheaper compared to restaurant prices.
Traveling/getting around
Most rental houses indicate trusted taxi drivers, meaning prices are fair and that you are always in safe hands.
In the last times thanks to the collaboration of taxi drivers and hosts a network of taxis with shared routes has been created. It works better every time and in addition the acceptance by customers is very positive.
It is about sharing a journey with guests from other Casas Particulares who seek to reach the same destination as you. You just have to tell us when and where you want to travel so that we can move our contacts and organize it for you.
The departure time is always in the morning, between 7:30 and 9:00. The taxi driver will pick you up from your accommodation and drop you off at your private home or destination hotel at the end of the trip.
Real example
You and your partner want to go from Havana to Trinidad quickly and comfortably. Taking into account that we have a distance of 315 km and almost 4 hours of travel, a taxi for both of us can cost between 130 CUC and 150 CUC.
If you do the same route in a shared taxi, it will cost 70 CUC. It is very simple, you pay 35 CUC for each seat you occupy.
For interregional journey, there is also a cheaper alternative than the shared taxi. This is VIAZUL, a bus company with routes to and from all Cuban provinces.
On some routes they have more than one departure per day. To access its website click here, you can simulate the route you want to make and see the cost. If you have it clear you can even make the reservation.
The only "problem" of this means of transport is the duration of the trip, since they make many stops that lengthen the arrival time.
Accommodation elsewhere
La Casona de Rakel is located in the heart of Havana, but we know that Cuba has more to offer than its capital.
If you would like to explore other areas, be assured that we have contacts with hosts in many other parts of the island and we would gladly help you find a safe, legal and trustworthy place.
If after reading this article you have any questions about Casas Particulares/Airbnb Cuba, leave us a comment and we will answer you as soon as possible.
It will be a pleasure to help you!
---
Published on: 19 April, 2020 - Filed under: Travel Cuba
---
---